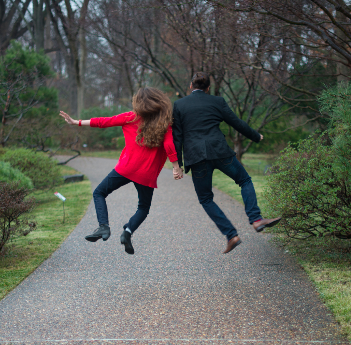 Washington, DC party for Veronica & Tony
A festive gathering at a favorite restaurant.
Saturday, October 15, 12 noon - 4pm
Boundary Road Restaurant
414 H Street NE
Washington, DC 20002
Be sure to RSVP or send us a note to let us know you're coming.
Schedule
Tony & Veronica will arrive shortly after the party starts, so aim to be there at noon if you'd like to be there for their entrance. We'll do a brief welcome, tell the origins of the food and decorations, and introduce some people, so it should be fun.
The food will be served family style after the welcome, and there will be some tunes. Whenever things start to quiet down (perhaps around 3:30pm), the couple will party on out of there.
Dress
For our "fancy brunch," we invite you to pretend that you're going on a date with someone you want to impress, and they told you you're going to brunch.
Transportation
Boundary Road is a pretty easy walk from either NoMa or Union Station on the Red Line. We personally prefer the walk through the neighborhoods from NoMa. There is some parking in the neighborhoods on either side of H Street, if you want to go that route. Just be sure to read the parking signs.
Kids
They are welcome to attend!
Get updates and RSVP
Whether you plan to attend, want to follow along, or somewhere in between, be sure to RSVP. You can update whether you'll make it up to the last moment, if needed.